There are many ways to make a car faster, but only a handful are as good, safe, reliable and ultimately effective as our tuning. We take great pride in being one of the rare companies which use top notch equipment and extensive, meticulous dyno and road testing. In addition, our data logging is performed by dedicated engineers and tuning experts who are educated continually in order to be up to date with the latest solutions in the industry. If you are looking for the best tuning for the latest ECU models, you'll definitely find it here.
HOW WE TUNE
We understand how important tuning is to you and your car, so we perform it with the help of industrious experts and high quality tools and parts. There are three main aspects of tuning and numerous accompanying elements. The three main parts consist of adjusting the amount of air, the amount of fuel and determining the best moment for ignition.
Since a turbocharged engine gives the best results when tuning, we are going to illustrate the process on it.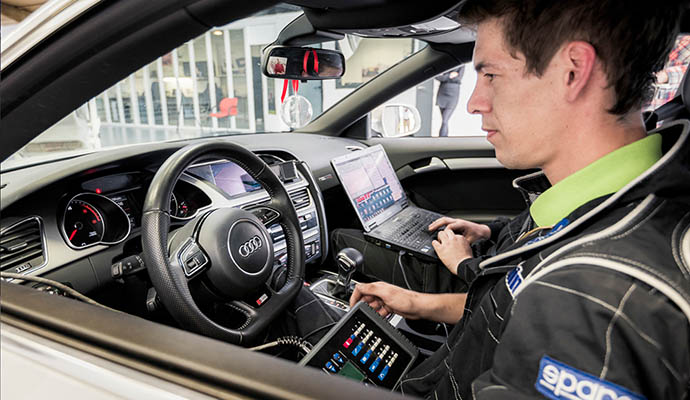 The first step is increasing turbo pressure. In most modern cars this is done using a software tweak. Increasing turbo pressure means that the engine gets more air than it did previously. However, for engine's optimal performance, the ratio between air and fuel needs to be at a certain level. This is called stoichiometric ratio and it varies for different fuel types.
So, adding more air by increasing turbo pressure also means that we need to add more fuel. Having optimal air-fuel ratio greatly improves combustion process, engine reliability and longevity, fuel efficiency and performance. These two changes are the biggest reason why engines get more power after tuning.
However, going too far with them causes serious damage to the engine, gearbox, exhaust system, turbo, numerous sensors and other systems. Knowing the limitations of each part and staying within the boundaries by means of careful testing makes a huge difference.
With these two changes performed, we can move on to adjusting ignition timing. In the vast majority of cases, this means advancing it. We should explain what the benefits of advanced ignition timing are. First of all, it gives more time to the added air and fuel to combust properly, but it also significantly improves throttle response. Even without adding more power, advancing ignition timing would improve drivability, because the car would react to the pedal push more readily.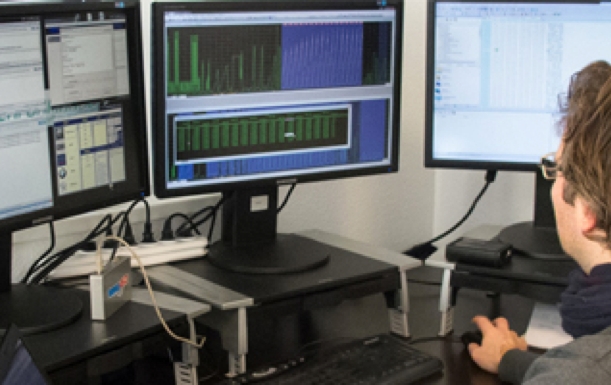 Still, just like with the turbo and fuel adjustments, advancing ignition too far causes severe mechanical damage to the engine internals. The damage is often far more immediate than the one caused by having too much air and fuel. We cannot stress the importance of testing and data logging enough.
Our basic explanation of how tuning works explains only how cars get more power and torque. As you probably know, the power and torque ratings stated by car manufacturers are their highest values in the rev range, in most cases reserved only for the portion of the power and torque curves. Making a car more capable in a certain, limited part of the rev range is by no means the same as making it more capable overall and noticeably better to drive.
This is where the 'numerous accompanying elements' come into play.
TUNING – SMALL THINGS MAKE A BIG DIFFERENCE
The amount of power you can gain with tuning depends on a number of elements, including the original state of tune. In general, getting between 15% and 30% over the original power and torque ratings is possible for most turbocharged cars without any (or any major) mechanical changes.
For example, the four-cylinder OM646 engine used in the W211 Mercedes-Benz E-Class had between 136 and 170 horsepower. It could be safely tuned to more than 190 hp without any hardware changes. This means that this engine could gain between 12% and 40%, depending on the original tune.
This kind of power and torque increase is the result of numerous small adjustments, rather than a huge one. However, numbers aren't the only important thing. What is the use of having 700 Nm if they only come when you rev up to 7,000 rpm? The figure looks amazing, but in practice it gives very little to an everyday car. It is important to make the torque and power curves usable in a wide range and not only amazing in a very narrow range. Which brings us to another thing.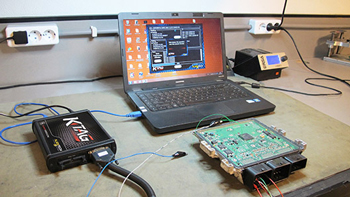 It is very important to note that the rate and nature of adjustments greatly depend on the given context, e.g. rpm at a particular point. The level of the ignition timing advancement depends on several factors, including the given rpm. At low rpm we advance the timing to give more torque in low revs. As the cylinder pressure grows, we start retarding the timing and when it starts losing power again in high rpm, we advance it a bit more to give it an extra boost in that range.
As you can see, the ignition timing adjustment is not just setting a general point, but actually varying it for the best possible output at any point. This results in increased outputs in rpm sections that usually have a lower torque rating, but also in keeping safety for the sections where cylinder pressures are peaking. So, the torque curve has a much wider range where top torque figure is available, which immensely improves drivability.
Similarly, timing is very important for using the full potential of energy generated in the cylinders. Imagine you rode a bicycle and you wanted to get up from your seat to use your body weight together with the full strength of your leg to push on the pedal harder for more acceleration. The actual point where you would do this is very important. If you apply your full power when the pedal is down, nothing will happen – you will not move. If you apply it when the pedal is at its highest position, you will waste some of the energy before the pedal actually starts going down. If you apply it before the highest position, it will go back instead of forwards.
The best point would be just as the pedal starts going down after its highest position. However, in order for the full power to be applied at that point, you need to start the preparation earlier. For example, you have to start getting up from your seat before the perfect point for the push.
How does this analogy translate to the internal combustion engine?
The angle of the bicycle pedal at the time of the strongest push does what the angle of the connecting rod in your engine does, so the piston needs to push down the hardest on the connecting rod when it is at exactly the right angle.`
Now, contrary to the popular belief, ignition inside the cylinder is not an explosion, but rather a flame front. The spark ignites a molecule of fuel it touches and its ignition then ignites the one next to it, which ignites the next one and so on. These multiple ignitions increase the cylinder pressure in increments and when the cylinder pressure is at its top level, it should be at the exact angle when the connecting rod can give the most benefits – just like the bicycle pedal.
However, as we've just explained, it takes some time to build up the pressure after the ignition. This means that the ignition needs to start before the pressure is at its top level – just like you need to start getting off your seat before the moment you need to press the pedal. Getting the perfect timing is of the highest importance for improving performance and keeping safety, but as you can see, it depends on a number of factors.
Similarly, the flame front duration explains why fuel quality also matters. Higher octane fuel burns slower and it gives more controlled combustion, so timing also depends on the fuel used. Many cars today have systems such as knock sensors that automatically give the ECU information to adjust the timing depending on the fuel quality.
As you can see, ignition timing makes a huge difference. However, it is combined with a number of adjustments and the effects of the combination may vary. It is important that they work together in perfect harmony, so we make sure that every part of the tuning process is carefully monitored and controlled.
So, let's look back to what we have learned:
There are three main parts of the tuning process – adjusting the amount of air and fuel and setting the right ignition timing
Since we illustrated the process on turbocharged engines, increasing turbo pressure is the first step
Air-fuel ratio is crucial for combustion so the amount of fuel should also be adjusted to match the added air
Ignition timing should be set perfectly to ensure safety, thorough use of energy and perfect combustion
TESTING AND SAFETY IN TUNING
A thing often ignored but actually of the highest importance is extensive dyno testing and data logging. Adding more air and fuel will inevitably increase power at some point, but it also creates problems with safety and reliability, just like advancing timing too much can seriously damage the engine internals. What is the point of having more power if you destroy your engine?
When we talk about testing and safety, people often assume that this is mostly preventing torque to cause problems with the transmission. In fact, it is so much more, including the timing aspect we mentioned above. For example, we log lambda sensor data to prevent the mixture from becoming too lean, so as to avoid the occurrence of knock. Similarly, keeping exhaust gas temperature within certain boundaries is very important for preventing damage to the turbo or the exhaust system.
Knowing the limits of car components and meticulously testing while tuning is paramount. It ensures safe and reliable vehicle. We take great pride in our creations, both regarding their performance and safety and reliability.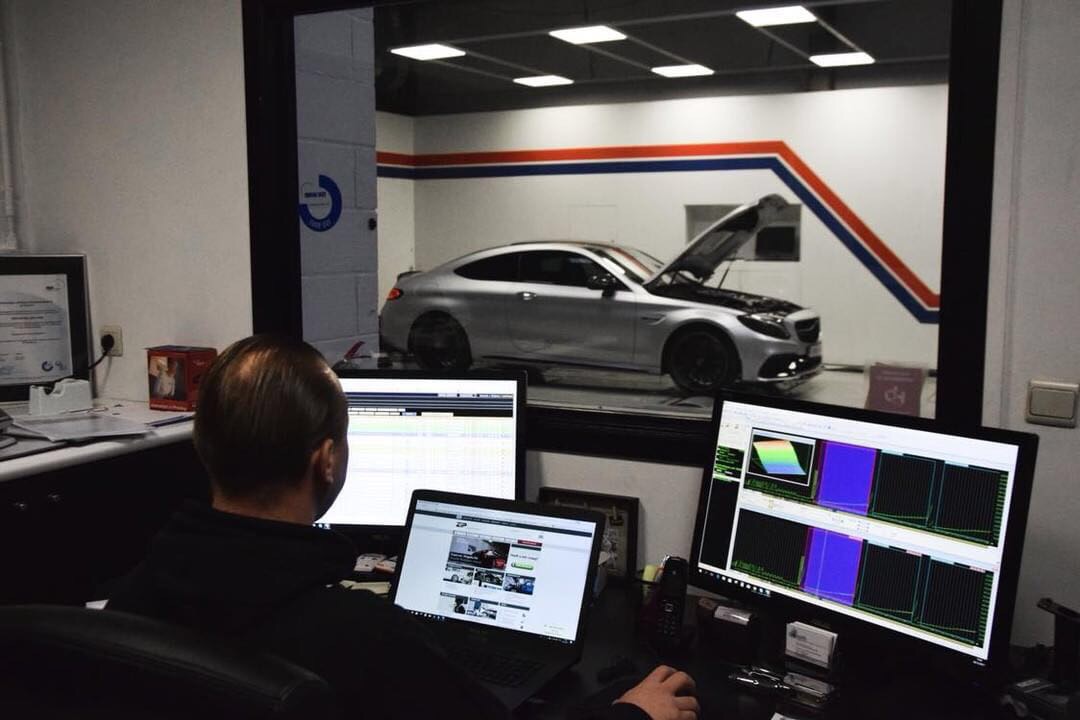 As you can see in the picture of curves comparing our projects to the original measurements in our "Blog" section articles, the horsepower and torque curves of the original tunings and the ones performed by us have very similar shapes, alongside the considerable increase in figures. This is so in most cases and we wanted it this way because we opted to follow the OEM software architecture, keeping the car completely safe in every respect, while making it far more powerful, responsive and enjoyable to drive.
GOING BEYOND THE BOUNDARIES
All of the above constitutes only stage 1 tuning. It is designed to make the best use of the potential behind stock OEM parts or some minor additions, as per our clients' requirements. However, we can go well beyond that. After years of experience, knowledge and testing, we have gained detailed knowledge about all the boundaries of stock components. This allows us to design a perfect course of action for extreme tuning solutions.
Each of these custom projects is special, but some general guidelines say that stage 2 tuning includes adding more capable intake and exhaust parts which help the engine breathe better. These open a bit more room for software adjustments that extract more power while still staying safe.
Stages 3 and beyond include major hardware changes which dictate further additions. In most of these cases we install a more hardcore turbocharger and a number of other parts to accompany this change. Almost any engine hardware change requires careful software modification described in the stage 1 tuning development. This helps us use the full potential of new parts.
For example, after we add a bigger turbo, injectors in some cars can become insufficiently effective and fail to inject enough fuel, so we need more efficient ones. Intercoolers are also often replaced, even in stage 2. Some cars require replacement of parts such as headers or manifolds, while in the most extreme cases, we may need complete engine rebuild, using more durable engine internals that can deal with extreme increases in pressures.
Depending on the level of tuning, other car parts may need replacement. For example, a car with several hundred new horsepower usually needs bigger brakes, firmer suspension, roll bar and other heavy-duty replacement parts.
As you can see, going beyond stage 2 becomes a much more of a custom tuning job, depending greatly on a number of factors, including customer's desires and tuner's guidance. Each addition in the engine operation department gives more room for a change in software management and opens a few new doors. However, as we climb up the performance ladder, the stress that various car and engine parts have to endure greatly increases and calls for additional testing and adjustments. Making a safe and reliable car is as important as making a fast one.
You should understand that tuning process is very complex and should be custom tailored. That is why a tuner should have the necessary knowledge of OEM components and limitations to provide top notch tuning without jeopardizing safety or durability. If a tuner is competent enough to perform a Stage 3 tuning properly, you can easily trust him on Stages 1 and 2. If that is what you are looking for, ZIP Tuning is just the right place!
TUNING IN BRIEF
The three main aspects of tuning are the adjustment of air amount, the adjustment of fuel amount and setting the best ignition timing
Testing and data logging are crucial for reliable tuning; it is vital for each stage to be performed within stress limitations of the vehicle, otherwise it is not safe
Stage 2 tuning may include some basic changes in intake and/or exhaust parts which makes room for further software modifications and a bit of extra power coming from the improved breathing of the engine
Stage 2 tuning is an excellent precondition for stage 3
Stage 3 involves some serious modifications and new parts to support them